Social27 allows you to create 2 user roles for your Sponsor Booths, these user roles have certain privileges that allow them to manage the front end and the back end of the microsite.
This article will outline these roles and their privileges. Below are the two user roles for your Sponsor Booth:
Booth Manager
Booth Representative
Booth Manager – You can provide this user role to someone who will be managing the site from both the backend and the front end.
Booth managers will receive an email when you add them, this email will help them get access to the microsite that they will manage through the sponsor workspace. Follow the steps below to add Booth Managers:
Once you are logged into your event through Social27.com (backend), go to Booth Team from the Users drop-down from the top.
Enter the email of the Booth manager that you wish to add.
Select the booth from the 'Booth Access' drop-down. You can select multiple Booths.
Click send an invite.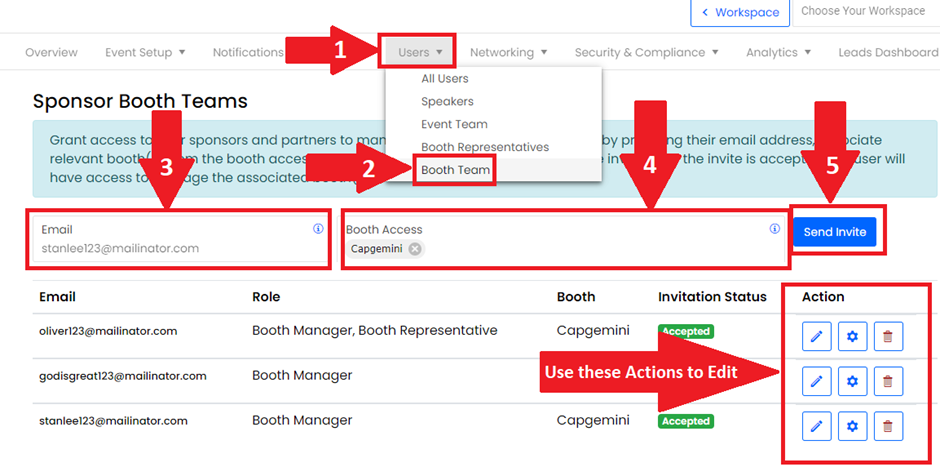 Booth Representative – Give this user role to someone who will be managing the microsite only from the front end on the day of the event. These profiles will be shown on the Booth Rep section in the microsite as well.
You can either add them directly to the Booth or add them as users > upgrade the permission > and let Booth managers add them to their booths.
Follow the steps below to add Reps directly to the Booth:
Go to Sponsor booths from the content drop-down
Click the ellipsis showing next to the Booth where you would like to add the Rep
Then click the Manage Booth Layout option
From the Booth Layout Page:
Scroll down the page, and click on the Pencil option to edit or add a new rep.
Simply search for the person that you have already added as a user or click 'New Representative'.
After you have added the Booth Reps, click the Save Button, Then click the 'Update Booth' button from the top.