Speed Networking is an excellent feature of the Social27 Events Platform that allows you to connect with other attendees who share your interests. With a few simple clicks, you can start meeting new people and making valuable connections. It is a beautiful way to connect with other attendees with the same areas of interest and make valuable connections in whichever way best suits you.
How does it work:
The Social27 platform looks at your selected Areas of Interest. Then, it matches you with attendees who have chosen those same interests. You can connect with your matches, immediately meet with them, or schedule a meeting for a future date/time.
To access Speed Networking, log in to your event, and navigate to the Networking Lounge using the left navigation menu. To start connecting with other attendees, click Meet someone new.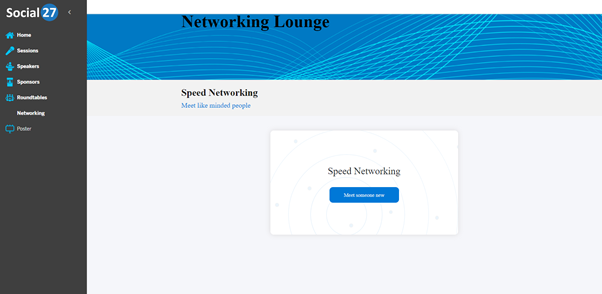 Allow the use of your device's microphone and camera, then click Join Now.
And select the type of room to start connecting with other attendees :
Note: - Roll A Dice - allows attendees to connect with random people.
AOI matching - allows attendees to connect with attendees basis the Area's of Interest that they select. Once you select Roll A Dice the system takes you to the next screen where it starts to showcase other attendees, refer to the screenshot below :
AOI Matching
Select AOI Matching and then Choose your areas of interest (the ones you selected when you first logged in to the platform will be pre-populated) and click Join Now.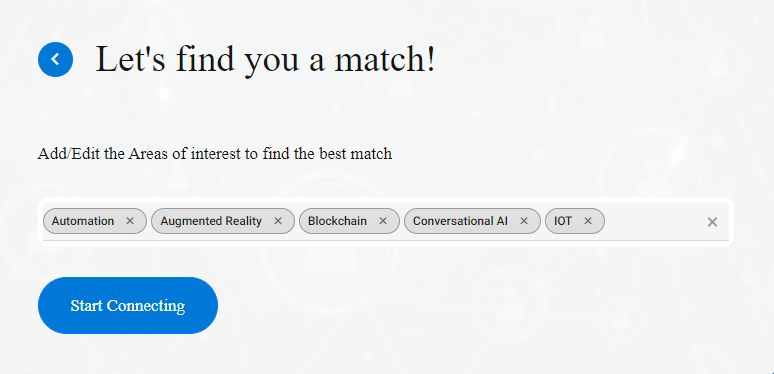 Once you have verified your areas of interest:
You can click Find Next Match to start connecting
Or browse through the Speed Networking lobby and schedule meetings with other attendees who have checked out Speed Networking.
If you click Meet Now, you will enter a video call with your match where you can connect over your shared interests. When you hang up from the call, a feedback screen will load asking you to rate your experience, as well as your connection. It is essential to provide this information to help ensure your future matches are an even better fit. After giving feedback, you can meet more companions or return to the lobby.
When you click Find Next Match, the system will display one of your matches to you. Your profile appears on the right side of the screen, and your match's profile is on the right. You can review the bio information they provided. If they are online, meet with them immediately (a), or if they are not online, schedule a future meeting (b). If you are not interested in meeting with them, click Next Match.
You can return to the Speed Networking lobby by clicking Next Match, then Return to Lobby.
Further Reading :