This checklist will help ensure that your sponsors' booths are complete and ready for your event. We recommend including the following items on each sponsor booth:
1. Logo and Banner
Sponsor logos and banners can appear in multiple places throughout the event, including on the Expo Hall and Home pages and on sponsored session pages. We recommend using high-resolution PNGs with the following recommended sizes:
| | | |
| --- | --- | --- |
| Image | Recommended Size | Maximum File Size |
| Logo | 400 x 400 pixels | < 500 kb |
| Banner | 1980 x 400 pixels | < 500 kb |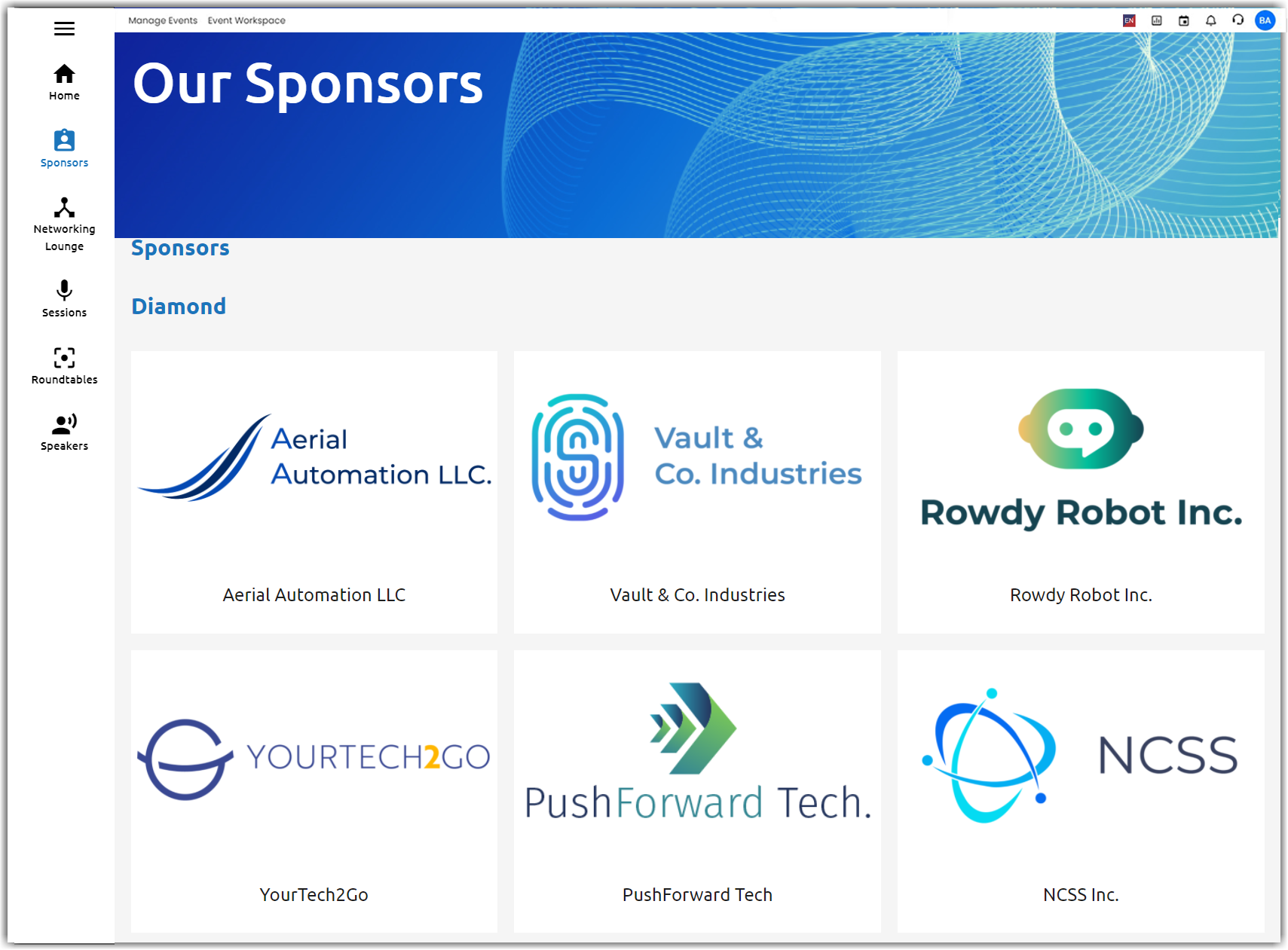 2. Booth Details
The booth details component should include the following information:
Headline: There is no character limit, but we recommend keeping it short.
Description: Should be under 2,000 characters.
Your sponsor description can describe which category your product or service will fall under. For example Analytics, Coding Software, Medical Association, etc. It's also a good idea to include Twitter, Facebook, LinkedIn, and Instagram account links in this section.
3. Playlist
Headline: Please include a catchy headline for your playlist. There is no character limit, but we recommend keeping it short.
Content: These items should be engaging and eye-catching to attendees. Items can be videos, blogs, or PDFs. Please provide a web link where your content items are hosted (e.g., a YouTube link for videos).
Thumbnails: Thumbnails serve as visual descriptions that illustrate what your Playlist content is about. Use bright, eye-catching images with limited text to encourage attendees to click on and engage with your Playlist content. Playlist images should be 378 x 250 pixels.
4. Lead Generation Form
Lead Generation forms can be included in Playlists and will appear on the screen to collect information from attendees. You can customize your Lead Generation Form to capture specific information about attendees who visit your booth.
5. Booth Reps
Our recommended number of Booth Reps is up to 5. There is no limit on the number of Booth Reps that you can have. Profile images for booth reps should be at least 400 X 400 pixels, 72 DPI, and JPEGs or PNGs. We recommend including for each booth rep the following information:

First Name
Last Name
Email
Title
Profile picture
6. Resources
Add downloadable resources to your booth that attendees can take away and refer to later.
7. Meetings
Schedule meetings that you can use to connect directly with attendees to explain more about your organization, products, and services.

Further Reading :